Tamiya 1/24 RC Lunch Box Mini SW-01 Kit 57409
Tamiya 1/24 RC Lunch Box Mini SW-01 Kit 57409

 Available from stock, ships immediately.


 Uit voorraad leverbaar, vandaag besteld = morgen in huis.
Small yet perfectly formed
The Lunch Box is a famous name in Tamiya R/C and Mini 4WD, delighting many a hobbyist over the years. Now, it is here in brand new mini 1/24 form, as a fascinating R/C model assembly kit! While extremely compact, it is endowed with excellent mechanical design: gear driven 4WD, strut suspension and more! The lightweight polycarbonate body comes pre-painted in yellow, with wheel arches pre-cut and body mount holes already made. Stickers are included to decorate the body.
SW-01: Super-Compact 4WD
190mm long and 150mm wide, the SW-01 is a compact, highly fun 4WD chassis. A Type 370 motor is central in the slim monocoque frame, with gears transmitting its output to the front and rear of the model, where 70mm tires translate it into a powerful drive. The chassis power source is mounted in the top section to allow wild wheelies under acceleration. Strut type 4-wheel independent coil sprung suspension utilizes single piece upper arms to link left and right wheel steering motion, helping suppress roll during turns, and together with front and rear differentials realize a tight turning circle.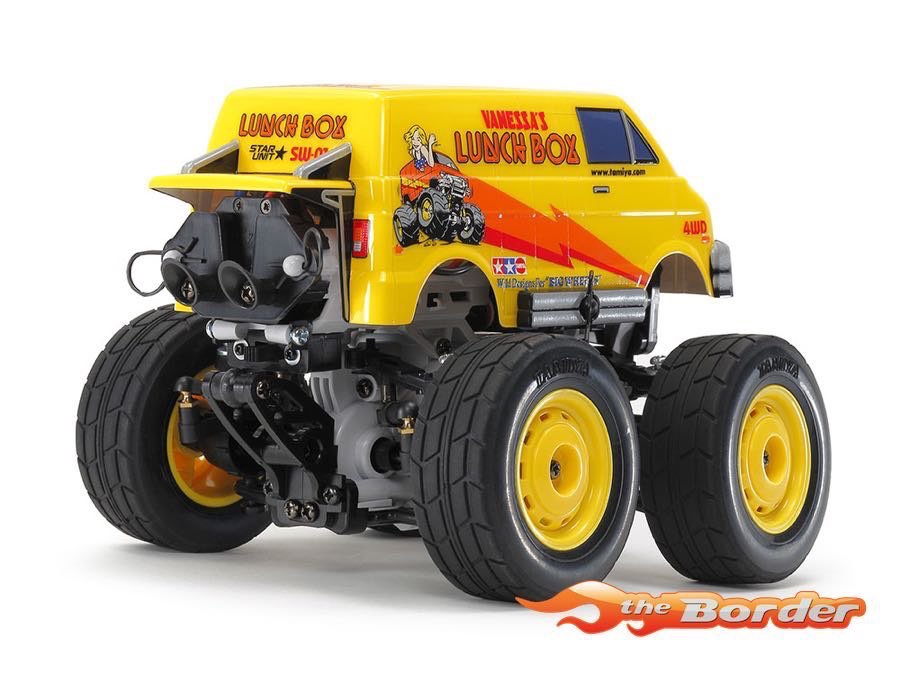 The compact SW-01 is just 190mm in length, but utilizes a gear-driven 4WD drivetrain for a powerful, fun drive.
The polycarbonate body is a 1/24 scale rendering of the Lunch Box. It uses magnetized body mounts.
To save time, the body comes pre-painted in yellow with wheel arch and body catch sections pre-cut.
The model's power source is mounted on the top of the chassis, assisting with super exciting wheelies!
A close-up of the steering. The one-piece front upper arm is attached to the steering linkage for lean.
Attach the separately sold Item 54898 SW-01 Upper Arm Connectors to enjoy crazy steered wheelies!
At around A5 size the Lunch Box Mini lives up to its name, but provides fun, feisty performance.
The central Type 370 motor transmits power to front and rear via gears in a 4WD setup.
A moving upper arm links left and right suspension, cushioned by MacPherson struts.