Kyosho Mini-Z Buggy MB010VE 2.0 Inferno MP9 32293B
Kyosho Mini-Z Buggy MB010VE 2.0 Inferno MP9 32293B
MINI-Z Buggy VE 2.0 uitgerust met FHSS-ontvanger en wordt geleverd met carrosserie, wielen en banden!
Werkt met de standaard Mini Z zender KT-531
De MINI-Z Buggy MB-010VE 2.0 chassisset is ideaal voor een raceplatform. De nieuw ontworpen ESC-printplaat zorgt voor een enorm verbeterde gasbediening, waardoor de houding kan worden gecontroleerd door middel van sprongen voor een duidelijk racevoordeel. Naast de gas- en remparameterinstellingen die mogelijk waren met het vorige model ESC met installatiekabel (nr. 82082, apart verkrijgbaar) en gratis softwaredownload, beschikt deze nieuwe printplaat over instellingen voor remfrequentie en ESC-beveiliging. Met elke parameterinstelling kunt u een MINI-Z Buggy creëren die perfect bij uw rijstijl past. De ontvanger is compatibel met de zenders KT-531P en KT-432PT; MINI-Z RWD-, AWD-, FWD- en Buggy Readyset-gebruikers kunnen de opwindende offroad-races betreden met behulp van een handzender.
* MINI-Z Buggy MB-010VE 2.0 chassisset, uitgerust met borstelloze motor.
*Nieuwe ESC, gezamenlijk ontwikkeld met Scorpion Power System, maakt nauwkeurige aanpassing van elke instelling mogelijk.
* Nieuw ontwikkelde ESC-printplaat verbetert de gasbediening drastisch.
*Extra instellingen omvatten instellingen voor remfrequentie en ESC-beveiliging.
*Nieuwe versie met extra instelmogelijkheden. Instellingen kunnen worden gewijzigd met installatiekabel (nr. 82082, apart verkrijgbaar) en gratis softwaredownload.
*Volledige lagerspecificaties, net als de huidige Buggy-serie.
*Inclusief eerder optionele Under Guard en Ball Stud Wrench (MBW033) voor verhoogde chassisstijfheid.
*Er is een enorm scala aan optionele onderdelen beschikbaar voor tuning-upgrades.
*Comic Racer body kan worden geïnstalleerd met behulp van No.MB022 Shock Stay / Body Mount Set.
*Wordt geleverd met Inferno MP9 TKI doorzichtige carrosserie, banden en wielen.
*Ontvangerbord is compatibel met KT-531P/KT-432PT-zenders. Optionele gyro (apart verkrijgbaar: klik hier voor gyro-ondersteuning) kan worden geïnstalleerd en het gyro-effect kan worden geregeld met een volume op het chassis, of vanaf de zender bij gebruik met een KT-432PT.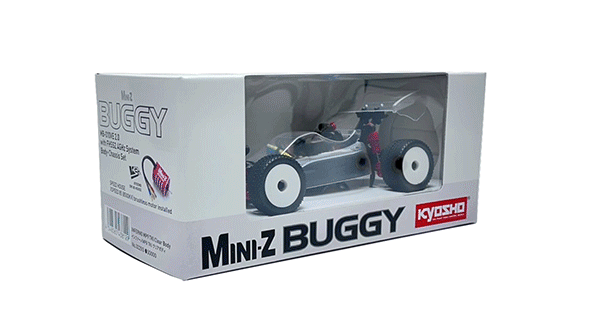 Dynamische acceleratie van asaandrijving 4WD + 4 wiel onafhankelijke wielophanging gecondenseerd in Mini-Z formaat. Laadt met gemak over hiaten.
Uitgerust met een nieuw ontworpen ESC-printplaat die de gasbediening aanzienlijk verbetert. Download de gratis software en maak verbinding met de installatiekabel (afzonderlijk verkrijgbaar) om de instellingen te vinden die perfect bij uw rijstijl passen.
Standaard uitgerust met optionele onderbescherming (MBW033) voor verbeterde chassissterkte en bescherming tegen crashes en spronglandingen.
Beschikt over het hoge vermogen en de duurzaamheid van de SPEED HOUSE XSPEED 85 (8500KV) borstelloze motor. Profiteer van het uitgebreide toerentalbereik en het vlakke koppelgevoel.
Vergulde motorklemmen zijn beter bestand tegen oxidatie en leveren superieure geleidbaarheid en energie-efficiëntie in vergelijking met zilver of koper.
Meegeleverde olieschokken zorgen voor een uitstekende schokabsorptie en wegligging.
■Length 163mm
■Width 105mm
■Height 46mm
■Wheelbase 115mm
■Tread(F/R) 89mm/89mm
■Tires(F/R) Sold Separately
■Weight 200g approx.
■Motor SPEED HOUSE XSPEED 85 (8500KV)