Kyosho Mini-Z RWD McLaren Senna GTR Blue (W-MM/KT531P) K.32340BL
Kyosho Mini-Z RWD McLaren Senna GTR Blue (W-MM/KT531P) K.32340BL
RWD-chassis met nieuwe zendercombinatie lanceert een nieuwe serie om de MR-03 te volgen.
Dit is een W-MM chassis/carrosserie.
Met slechts 8 AAA-batterijen kan iedereen met de MINI-Z Racer genieten van de prachtige stijl en geavanceerde prestaties van R/C-auto's. Kyosho, voor het eerst gelanceerd in 2013, heeft het MINI-Z Racer Sports MR-03-concept vernieuwd om nog gebruiksvriendelijker en aantrekkelijker te zijn voor meer coureurs met de MINI-Z RWD-serie! Zeer populaire carrosserievarianten in zeer gedetailleerde carrosseriesets creëren de ongelooflijk realistische modellenreeks. Inclusief de nieuwste Syncro KT-531P-zender met stuurtrim, gastrim, dual rate, LED-bedieningsfunctie, de sponsgreep van het stuurwiel zorgt voor een comfortabele pasvorm voor een nauwkeurig bedieningsgevoel. De set bevat ook een carrosserie die is afgewerkt volgens de standaard van een displaymodel en die de verbluffende stijl combineert met de prestaties, betrouwbaarheid en duurzaamheid van het MR-03-chassis. Het nieuwe besturingsprogramma op de nieuw ontworpen printplaat realiseert lineaire rijeigenschappen en kan verder worden verbeterd voor nog eenvoudigere besturing door de optionele gyro-eenheid (MZW431) te installeren. Deze serie vertegenwoordigt het perfecte pakket voor een diepe duik in de wondere wereld van R/C-auto's!
* De Syncro KT-531P-zender gebruikt FHSS 2,4 GHz en is niet compatibel met bestaande ASF/MHS/FHS 2,4 GHz-systemen.
●Nieuwe serie omvat de nieuw ontwikkelde Syncro KT-531P zender met meerdere instellingsopties.
●Nieuwe printplaat met nieuw ontwikkeld besturingsprogramma zorgt voor aanzienlijk verbeterd stuurgevoel.
●Zeer gedetailleerde display-standaard body is volledig in de fabriek afgewerkt.
●Volledige kogellagerspecificaties omvatten 7 lagers, voorheen een optionele upgrade.
●Compatibel met alle carrosserievarianten van de MINI-Z Racer. **Motorbehuizing en differentieeloverbrenging die bij de carrosserie passen, moeten afzonderlijk worden aangeschaft.
●De voorwielophanging is voorzien van VCS dat de camberhoek optimaliseert met de slag van de ophanging.
●Compatibel met optionele gyro-eenheid (MZW431). Het volume van het gyro-effect kan op het chassis worden aangepast. (**Instellingen kunnen vanaf de zender worden aangepast bij gebruik van de KT-432PT-zender (afzonderlijk verkrijgbaar)).
●Compatibel met optionele LED-verlichtingseenheid helder en rood (MZW429R).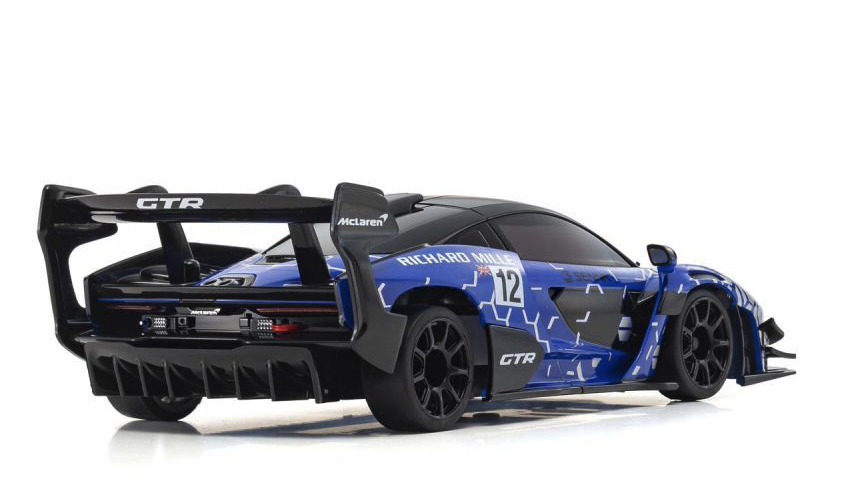 Audi motorsport division developed the LMS racing machine from the R8 production car base to comply with FIA GT3 rules. Victory at the 2015 24 Hours Nürburgring endurance race was a spectacular achievement in its debut year.
Includes stylish design of Syncro KT-531P transmitter. Features steering / throttle trim as well as dual rate adjustment of steering angle and control the flashing speed of optional LEDs. In addition, the transmitter has a Training Mode feature which limits speed of the car for easy learning(default setting at the time of shipment is Training Mode).
As the chassis is based on the proven MR-03 design, existing parts for the MR-03 and the optional gyro unit (MZW431) can be installed to enhance driving control.
Tread can be set to narrow or wide by changing steering tie rods on front lower and upper plates. Wheelbase can also be changed to suit body style. (**Changing requires parts to be purchased separately).
Compatible with huge lineup of optional parts for MR-03 that allows you to improve your machine according to your skill level and budget.
■R/C System Syncro KT-531P