Tamiya TT-02 SRX Chassis Kit 1/10 58720
Tamiya TT-02 SRX Chassis Kit 1/10 58720
Inclusief certificaat voor de TamiyaCup Nederland.
Deze kit mag meedoen in de EuroTW klasse.
Take the TT-02 Racing!!
Deze variant van het efficiënte 4WD TT-02-chassis bevat een reeks optionele onderdelen, zodat u vooraan in de race kunt strijden! Aluminium achterstijlen geven een toespoor van 3 graden voor stabieler bochtenwerk, terwijl een aluminium motorsteun zorgt voor meer stijfheid en verbeterde warmteafvoer. Een zeer betrouwbare aandrijflijn maakt gebruik van volledige kogellagers, aluminium schroefas en middencups, plus metalen aandrijfassen en gewrichtcups. De ophanging is voorzien van CVA-oliedempers en zwarte schroefveren; ze bieden superieure demping en verbeterde tractie. De kit bevat ook een TT-02 hogesnelheidsversnellingsset (68T).
Featured Components
– Aluminum Rear Uprights (3-Degree Toe-In)
– Aluminum Motor Mount
– TT-02 Aluminum Propeller Joints
– TT-02 Aluminum Propeller Shaft
– TT-02 Full Ball Bearing Set
– Metal Drive Shafts, Wheel Axles and Gearbox Joints
– 3x18mm Aluminum Turnbuckle Shafts
– 4mm Aluminum Flange Lock Nuts (Blue)
– 5mm Aluminum Short Ball Connector Nuts (Blue)
– 5mm Aluminum Ball Connectors (Blue)
– Medium-Narrow Racing Slick Tires
– 5mm Ball Connectors
– CVA Oil Dampers & Springs
Specifications:
– Length: 376mm, Width: 182mm
– Wheelbase: 257mm
– Tire Width/Diameter: 24/64mm (Front & Rear)
– Bathtub-type Frame
– Shaft-Driven 4WD
– Front/Rear 4-Bevel Resin Differentials
– 3-Piece Steering Tie-Rod
– 4-Wheel Double Wishbone Suspension
– Front/Rear CVA Oil Dampers
– Includes 68T and 64T spur gears. Combine with separately-sold pinions for Gear Ratio from 9.82:1 to 5.74:1.
– Electronic Speed Controller (ESC) is sold separately.
Separately Required Items
– 2-channel R/C system with ESC, Battery pack and charger, Batteries for transmitter, Type 540 Motor, Body
De kit wordt standaard geleverd met een servobeveiliging met hoog koppel, om de servo- en stuurstangen te helpen beschermen tegen schade.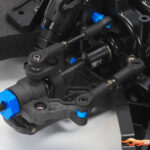 TRF420 design draagarmen en staanders worden toegepast, met dubbele cardan aandrijfassen.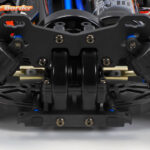 De opstelling van de achtervering kan worden gewijzigd met behulp van plastic bussen in de steun, fijnafstelling van teen- en sliphoeken.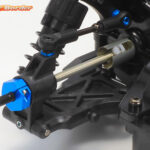 Achterste 39 mm aandrijfassen hebben een wrijvingsarme, zeer duurzame harde coating gekregen.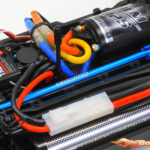 Een aluminium schroefas is verbonden door schroefverbindingen die speciaal zijn ontworpen voor gebruik met de meegeleverde plastic anti-slijtage doppen.