Kyosho Blizzard 2.0 1/12 Belt Vehicle Readyset EP (KT431S) 34902C
Kyosho Blizzard 2.0 1/12 Belt Vehicle Readyset EP (KT431S) 34902C
Mighty belt-tracked vehicle powers over sand, dirt and snow!
User-friendly Readyset with 2.4GHz R/C system also provides blade arm control!
Aangedreven door twee onafhankelijke side-by-side motoren, levert de transmissie in de Blizzard 2.0 Readyset geweldige kracht en vrije controle, zodat je kunt genieten van dominantie over elk terrein zoals alleen een echt voertuig met gordel kan leveren.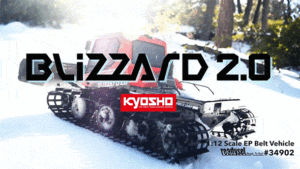 Met een veersysteem dat op alle wielen is uitgerust, lost de Blizzard elke uitdaging op zijn pad op, inclusief rotsachtige obstakels, steile hellingen en grind of zand waar een machine met normale banden vast zou komen te zitten. Dubbele 370-motoren en dubbele ESC's zorgen voor vooruit, achteruit, links/rechts draaien en draaien (draait ter plekke).
Daarnaast voegt de besturing van de bladarm met de zender nog een fascinerend aspect toe aan de Blizzard. Voor veel plezier in het zand of in de sneeuw kan de Blizzard
passen bij uw buitenlevensstijl en gaan waar u maar wilt.