Tamiya 1/14 MAN TGX 18.540 4×2 XLX Pre-Painted Red Edition 56332
Tamiya 1/14 MAN TGX 18.540 4×2 XLX Pre-Painted Red Edition 56332

 Available from stock, ships immediately.


 Uit voorraad leverbaar, vandaag besteld = morgen in huis.
A beautiful Tamiya 1/14 scale truck!
This special edition of the 1/14 R/C MAN TGX 18.540 4×2 XLX assembly kit comes with body components which are pre-painted in TS-39 Mica Red. A clear urethane topcoat is applied to ensure the finish resists scuffs and remains durable.
This kit is offered exclusively as an Export Only item (domestic version includes 4ch R/C units and battery pack undamp; charger and has a different
item number).
About the Model
– This is a 1/14 scale R/C assembly kit.
– Length: 458mm, Width: 193mm, Height: 298mm, Wheelbase: 272mm.
– The model features a realistic body and a 2-axle chassis with durable ladder frame.
– When controlled with a separately available R/C system, the 3-speed transmission enables authentic gear
changes while driving.
– Metal leaf springs and friction dampers enable realistic suspension movement.
– Cabin tilts forward just like the actual truck.
– The included coupler enables connection with any currently available Tamiya 1/14 scale trailer.
– The realistic interior includes seats and dashboard while metal-plated parts as well as metal transfer emblems
enhance exterior detail.
Length: 458mm, width: 193mm, height: 298mm, wheelbase: 272mm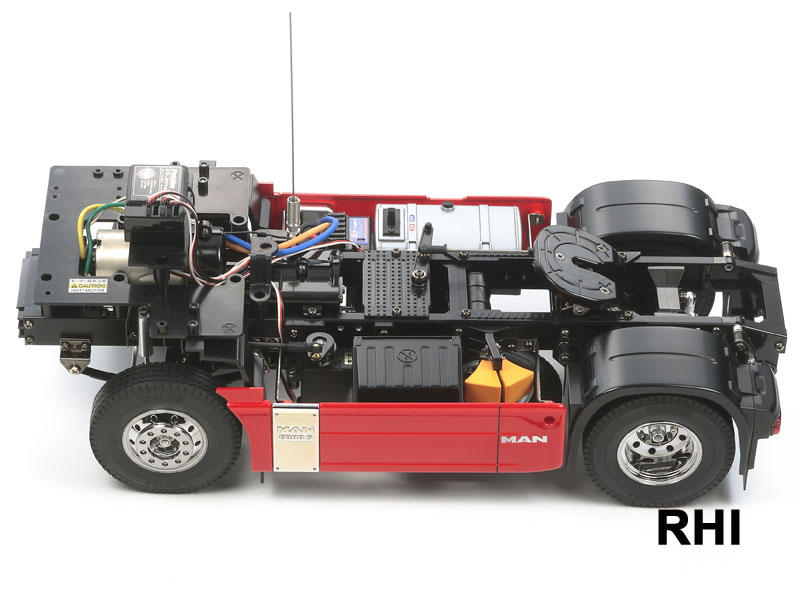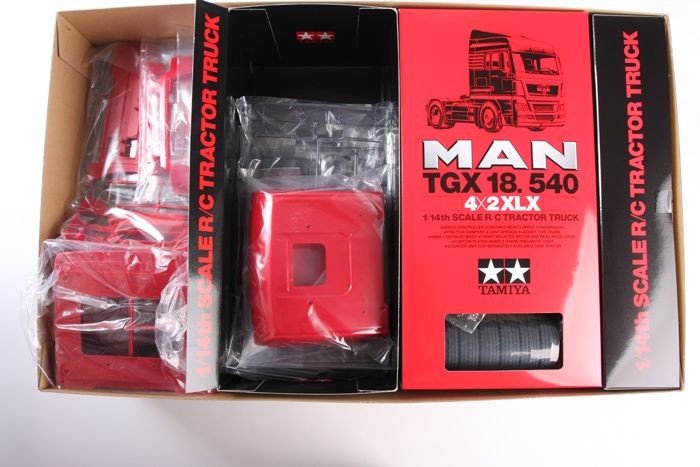 The Tamiya rendition of the MAN TGX 18.540 4×2 XLX faithfully captures the truck's modern form with the use of ABS plastic body parts and a number of metal chassis components. One look at the detailed interior and auxiliary equipment, such as air tanks, will confirm that the body features replica-quality realism, which is further enhanced with metal transfers depicting emblems and numerous metal-plated parts. The chassis is built for durability as it uses aluminum side channels with resin cross members.  Drivability is accomplished by power from the front-mounted motor and is transmitted via a propeller shaft to the rear axle; built-in differential gears guarantee smooth cornering. Gear changes can be made via a separately sold 4-channel transmitter.
The model features a highly detailed body and a 2-axle chassis with durable ladder frame. When controlled with a separately available R/C system, the 3-speed transmission enables authentic gear changes while driving.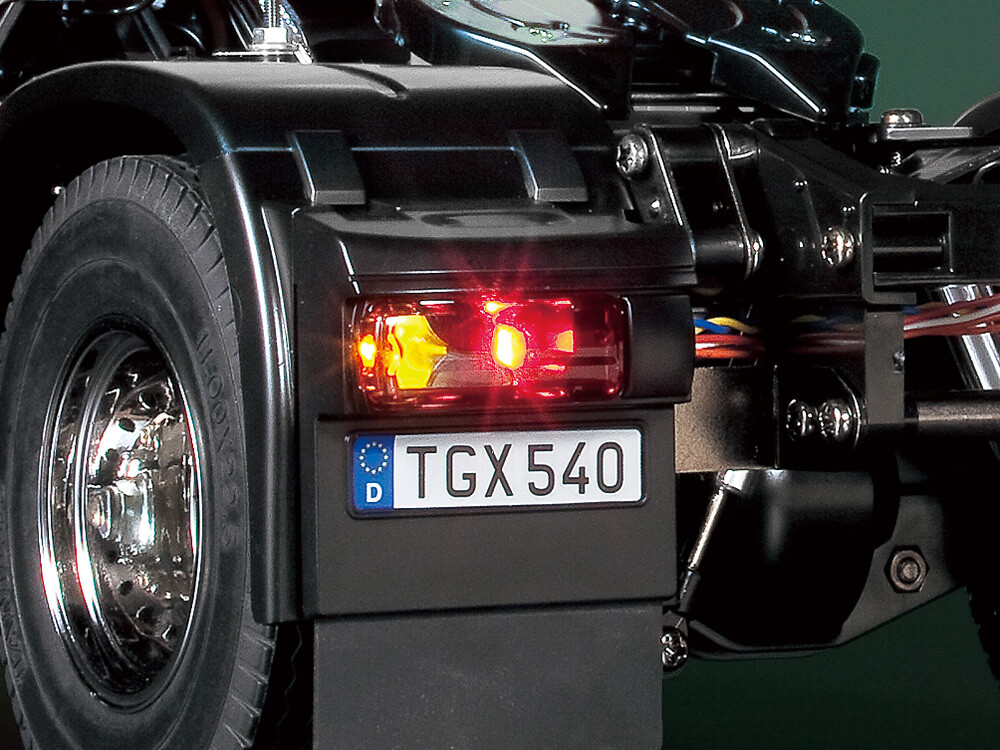 The MAN Can!
MAN is a German business concern renowned for their production of large transport vehicles such as trucks and buses. Their line-up includes the TGX series of trucks, which won them the International Truck of the Year 2008 award and includes the model recreated by this R/C assembly kit – the TGX 18. 540 4×2 XLX. The kit's polycarbonate cab is joined by separate parts for the fuel tank, battery case, spare tires and more, for unparalleled realism. Metal-plated parts are employed to depict exhaust cover and mirror surfaces. The highly realistic ladder frame chassis uses numerous metal parts for solid and durable assembly, employing a 3-speed transmission that allows gear changes via a separately sold transmitter. Kit-included coupler enables linkage with any of Tamiya's currently available 1/14 scale trailers, and the model is compatible with a wide range of Tractor Truck Option Parts as well.
Beautiful in Red
The kit includes a range of body parts pre-painted in stylish red: the cab, roof, spoiler, side skirts, front bumper and more. A clear top coat has been applied to the parts to ensure an excellent-quality finish. The kit requires assembly and painting of some parts in semi gloss black for you to complete your very own eye-catching truck.
Including real gearbox!
This truck includes a real gearbox.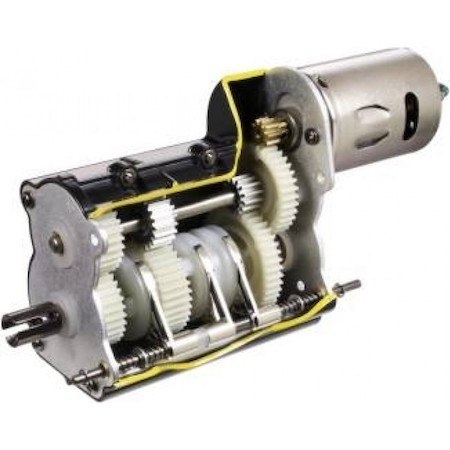 Semi-Trailers Separately Available
Various types including semi-trailer, tank-trailer, and pole-trailer, are currently available. Attach any one of them via the coupler on the model to create an exciting combination over a meter in length.