Tamiya 1/14 MAN TGX 26.540 TGX Pre-Painted Gun Metal Edition 56346
Tamiya 1/14 MAN TGX 26.540 TGX Pre-Painted Gun Metal Edition 56346
A beautiful Tamiya 1/14 scale truck!
Special Edition Gun Metal
The TAMIYA MAN TGX 26.540 Gun Metal (metal gray metallic) is a special variant, which is pre-painted with the TAMIYA-Color TS-38 Gun Metal and has an insensitive surface thanks to clear lacquer. Striking is the new grille with the big MAN logo. With the 526 mm long and around 3 kg kit model of the 2013 MAN truck, which became Truck of the Year in 2008, impressive teams can be assembled. Under the forward tilting cab is the proven and robust Tamiya truck technology. A powerful electric motor transmits its power to the two rear axles via a switchable 3-speed manual transmission. A detailed aluminum ladder frame gives the model the required stability. Thanks to its high dead weight and a fifth wheel, the MAN TGX 26.540 can be coupled with numerous TAMIYA and CARSON-MODEL SPORT trailers. With the optionally available multifunction unit, almost all sound and light functions of the prototype can be simulated.
Delivery:
Kit MAN TGX 26.540 Euro 5 Version 2013, with pre-painted bodywork and detailed illustrated instructions
Technical details:
• true to the original 2-axis drive
• ABS injection body
• cab tiltable (forward)
• aerodynamic package
• true to the original interior
• Aluminum ladder frame with plastic reinforcements
• Rear axle with metal bevel wheels
• Metal bevel gear differential
• 3-speed manual transmission
• fifth wheel plate (fits all Tamiya and Carson semi-trailers)
• Leaf spring packs with shock absorbers on the front and rear axles
• Aluminum front axle
• Aluminum drive shafts
• Electric motor type 540
Specs & Features:
– Length: 526mm
– Width: 193mm
– Height: 301mm
Including real gearbox!
This truck includes a real gearbox.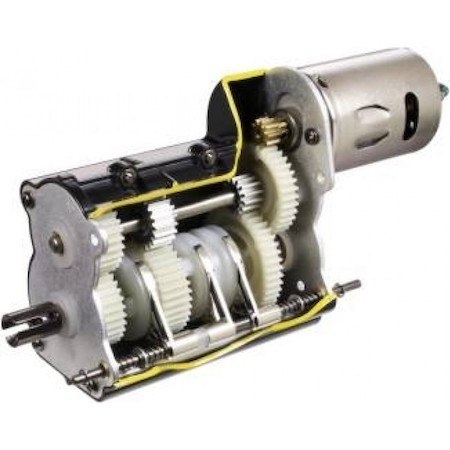 Semi-Trailers Separately Available
Various types including semi-trailer, tank-trailer, and pole-trailer, are currently available. Attach any one of them via the coupler on the model to create an exciting combination over a meter in length.