YUKI D6 Pro 200W AC/DC Smart Charger (w/Qi Phone Charger) 700370
YUKI D6 Pro 200W AC/DC Smart Charger (w/Qi Phone Charger) 700370
Dual charger with integrated power supply
The YUKI MODEL D6 Pro Dual Smart Charger charger has two independent charging outputs and can be used on mains power (AC 230 V), on a car battery (DC 12 V), with a LiPo battery or other DC power source (DC 6.5-30 V) can be used with stable voltage. In DC operation, the charging current can be selected from 0.1 to 16 A in 0.1 A increments at a maximum charging power of 650 W (max. 325 W per charging channel), the discharge current is at a maximum discharging power of 5 W per output Adjustable from 0.1 to 3 A.
In AC operation, the integrated battery delivers a maximum charging power of 200 W (on one charging channel or on both charging channels combined). Integrated balancers adjust the individual cell voltages of lithium batteries by up to 1.6 A per cell with a balancer output of up to 10 W per channel. If necessary, manual adjustment of the individual balancer channels is possible. It can charge lithium batteries up to 6s, nickel batteries up to 16 cells and lead batteries with 2 to 24 V. The charger also has a USB port that provides up to 2.1 A charging current at 5 V voltage.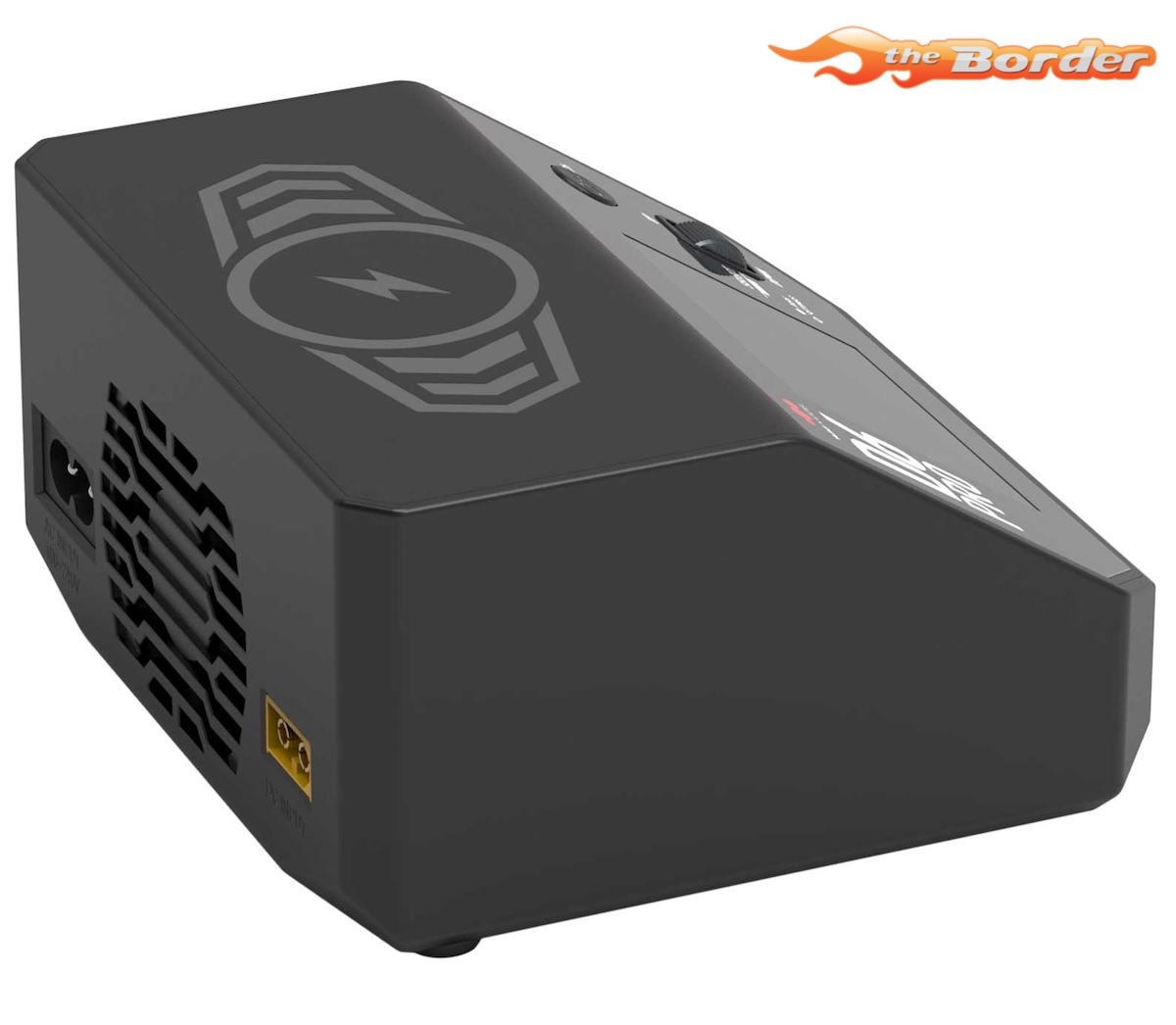 Smartphones such as the Apple iPhone 8, Apple iPhone X, Samsung S8 and many other mobile devices can be charged wirelessly (inductively) with the charger.
A special feature is the IPS-LCD in 2.8″ with 320 x 240 pixels and a display of approximately 260,000 colors.
Updates/upgrades can be installed with an optional USB/Micro-USB-B adapter. Thanks to the simple operating concept using the rotary knob.
With an integrated button, the desired process can be set quickly and without problems. A power cable with Euro plug for connection to the mains is included in the scope of delivery.
The device measures 108 x 105 x 76 mm, weighs 615 g and has a housing made of impact-resistant plastic.
| | |
| --- | --- |
| Input voltage (AC): | 100-240 V |
| Dimensions: | 108 x 105 x 76 mm |
| Input voltage (DC): | 6.5-30 V |
| Weight: | 615 g |
| Charging power: | DC max. 2 x 325 W (@ min. 24 V), AC max. 200 W (CH1 + CH2) |
| Discharging power: | internal max. 2 x 5 W, external max. 2 x 325 W |
| Charging current: | 2 x 0.1-16.0 A |
| Discharging current: | 2 x 0.1-3.0 A |
| Balancing power: | max. 2 x 10 W |
| Balancing current: | max. 1.6 A/cell |
| LiPo/LiHV/LiFe/Li-Ion: | 2 x 1-6s |
| NiCd/NiMH/NiZn: | 2 x 1-16s |
| Pb: | 2 x 2-24 V |
| USB port: | max. 2.1 A @ 5.0 V |