Traxxas Slash 4×4 Ultimate VXL 68277-4
Traxxas Slash 4×4 Ultimate VXL 68277-4
Dit is de nieuwe uitvoering van de Traxxas Slash 4×4 Ultimate: met een clipless body (dus geen bodyposts en bodyclips meer!).
The Ultimate in 4X4 Short Course Trucks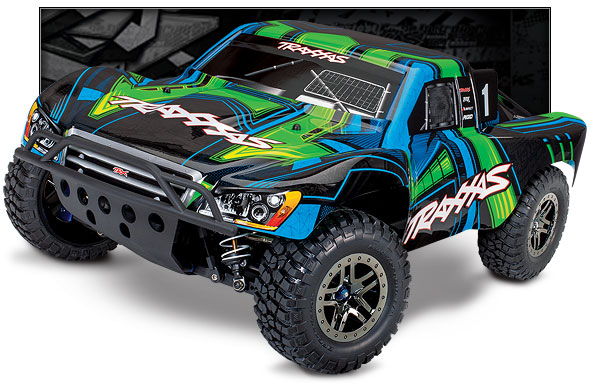 Experience the pinnacle of short course truck performance with the Slash 4X4 Ultimate. Fully loaded out of the box, the Slash Ultimate features brutal Velineon® brushless power and Traxxas Stability Management™ (TSM) with a high-speed metal gear servo. Carve corners like a pro thanks to the low-CG chassis, installed sway bars, and ultra-smooth blue PTFE-coated aluminum GTR shocks. Slash 4X4 Ultimate packs a full complement of aluminum hop-up parts and performance accessories for added strength and show-stopping looks. Slash 4X4 Ultimate arrives fully assembled with factory-installed telemetry sensors and a Wireless Link equipped TQi™ 2.4GHz radio system. Simply add the battery of your choice (sold separately) and you're ready for intense tire-scorching action.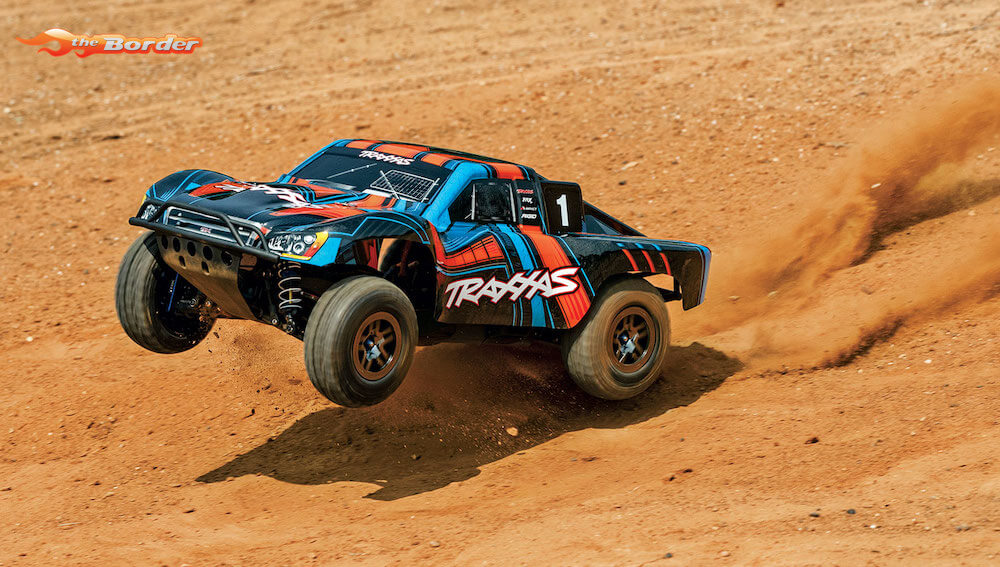 QUICK FEATURES ON SLASH 4X4 ULTIMATE (#68077-4)
NEW High-volume, blue PTFE-coated aluminum GTR shocks
NEW High-speed metal gear servo (#2075R)
NEW Upgraded Extreme-Duty driveshafts
NEW Heavy-duty suspension arms
Traxxas Stability Management (TSM)
Performance-optimized dark charcoal gray low-CG chassis
TQi 2.4GHz high output radio system with Traxxas Link Wireless Module™

Factory installed telemetry sensors
Telemetry-ready 5-channel 2.4GHz micro receiver

ProGraphix™ painted body
Blue-anodized 6061-T6 aluminum C-hubs
Blue-anodized 6061-T6 aluminum steering blocks
Blue-anodized 6061-T6 aluminum rear hub carriers
Blue-anodized 6061-T6 aluminum axle nuts
Adjustable front and rear sway bars
Included optional extra-stiff sway bar set
Factory-Equipped for Pro-Level Performance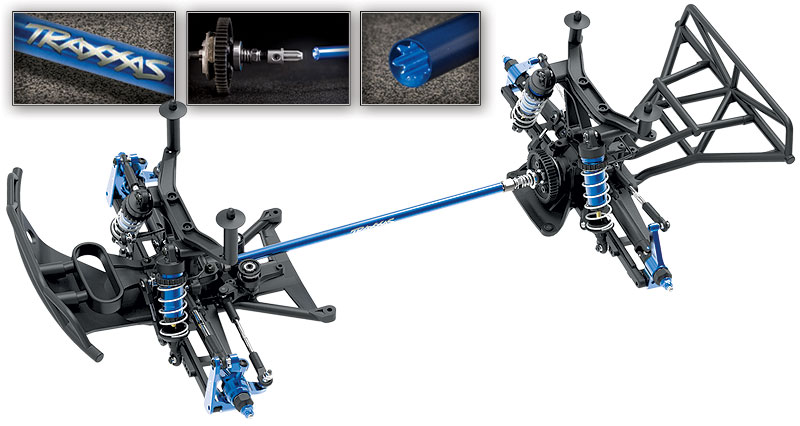 The Slash 4X4 Ultimate delivers a full complement of premium accessories to deliver competition-grade short-course performance and bomb-proof durability. The C-hubs, steering blocks, and rear hub carriers are constructed of solid aluminum for strength and blue-anodized for style. Traxxas soft S1 compound rubber tires enhance grip, and high-traction handling can be precisely tuned with the front and rear sway bars. No other electric short-course truck matches the Ultimate's convenience, competition-grade specs, and pro-level performance.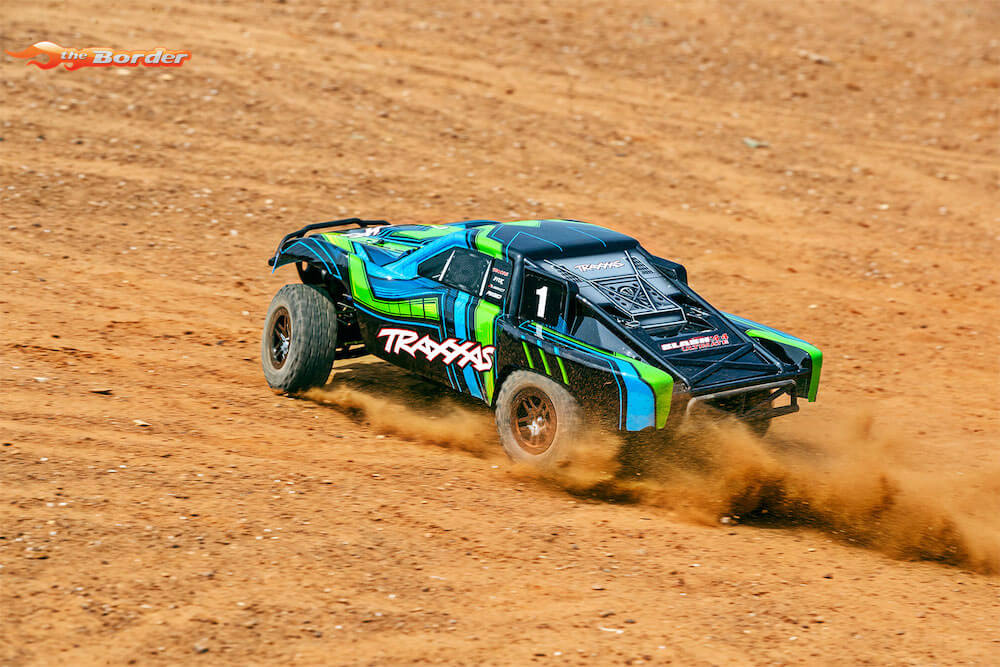 ~ Battery and Charger Sold Separately ~
Add a Traxxas Battery and Charger for the Ultimate Combo!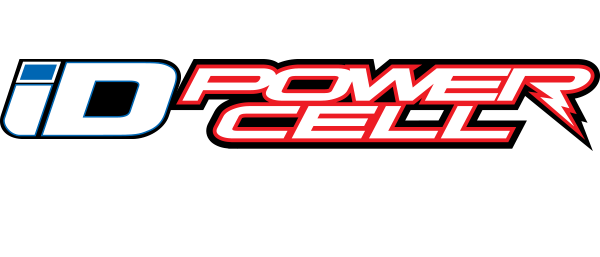 Slash 4X4 Ultimate lets you choose the performance you want!
Select the right Traxxas iD battery to fit your needs from the options below
Speed
35+mph
40+mph*
60+mph*
Battery
2923X (1)
3000mAh NiMH
2843X (1)
5800mAh 2S LiPo
2872X (1)
5000mAh 3S LiPo
Pinion/Spur
13-T / 54-T
19-T / 54-T
19-T / 54-T
Skill Level
1
4
5
Larger pinion gear/smaller spur gear combinations are for high-speed running on hard, smooth surfaces only.
*With included optional gearing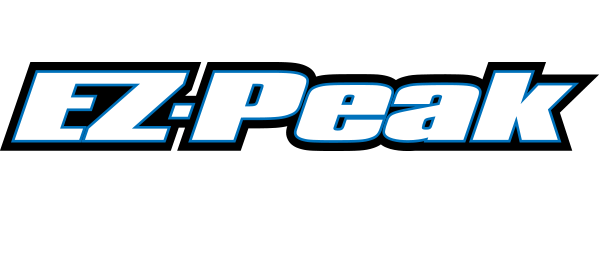 Choose your charging option with Slash 4X4 Ultimate!
Traxxas iD Auto Battery Identification makes charging simple
See the complete lineup of Traxxas iD batteries and chargers available for this model.

BATTERY FINDER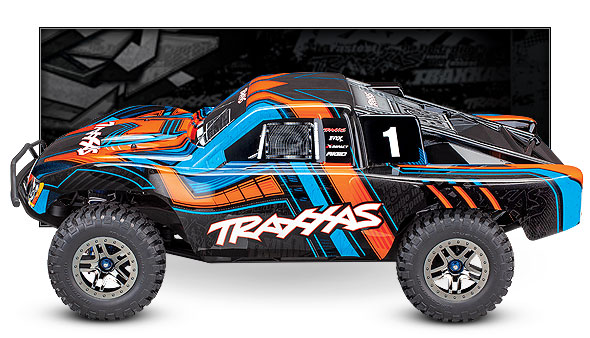 100% Fully Assembled and Ready for action!
Slash 4X4 Ultimate comes fully-assembled with the TQi 2.4GHz radio system and Wireless Module, telemetry sensors, Velineon brushless power, fully painted and decaled body, and securely glued tires. Simply add the battery or Completer Pack of your choice to start the full-throttle action! We back the Slash 4X4 Ultimate and all of our products with top-notch support that is second to none. A staff of skilled representatives is on hand to answer your questions via phone, website, or e-mail. Unmatched parts support allows Slash 4X4 Ultimate to be serviced with parts, accessories, and support from thousands of hobby dealers worldwide.
MODEL 68077-4: Fully assembled, Ready-To-Race® with Traxxas Stability Management®, 2.4GHz radio system with Traxxas Link™ Wireless Module, Velineon® Brushless Power System, and ProGraphix™ painted body.