Traxxas Unlimited Desert Racer 6S 4WD Met LED verlichting 85086-4
Traxxas Unlimited Desert Racer 6S 4WD Met LED verlichting 85086-4
New Version with Led kit included and New Colours!
Free shipping on the new Traxxas Unlimited Desert Racer!
Only valid to the following EU countries:
Austria, Belgium, Czech Republic, Denmark, Estonia, France, Germany, Hungary, Italy, Latvia, Luxembourg, Poland, Slovakia, Slovenia, Spain, Sweden, The United Kingdom, The Netherlands

PRO-SCALE™ PERFORMANCE
Pro-Scale is a new Traxxas innovation that captures true-scale realism and combines it with extreme 6s LiPo power and 50+ mph performance. The Traxxas Unlimited Desert Racer faithfully captures the look and feel of Trophy Trucks and Unlimited Trick Trucks as they charge hard across the desert at full speed.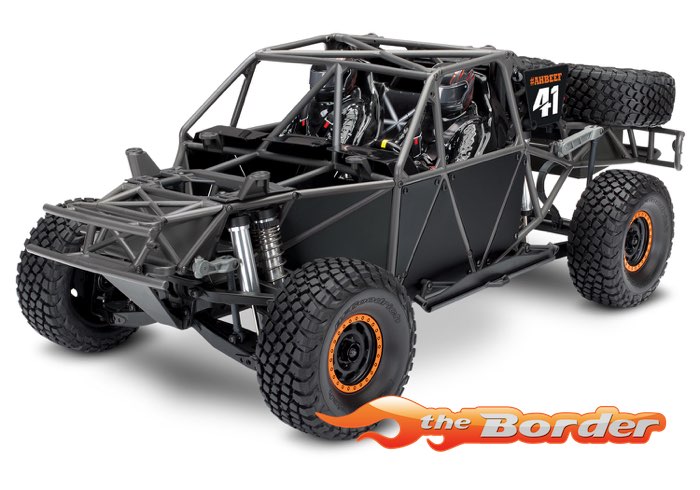 DRIVING REALISM
The Traxxas Unlimited Desert Racer is engineered on an authentic, true to scale 4-wheel drive desert race truck chassis. The 4-link solid rear axle design provides huge suspension travel with authentic driving dynamics. From the cantilever sway bars to the 8 GTR shocks, Traxxas has accurately reproduced a true unlimited desert race chassis in both form and function.
6S EXTREME POWER
The 50+ mph Unlimited Desert Racer delivers its pro-level performance with brutal 6s power. The VXL-6s ESC combines massive power handling with high-tech telemetry features. An ultra-tough drivetrain harnesses the extreme power to make it easy to control and fun to drive.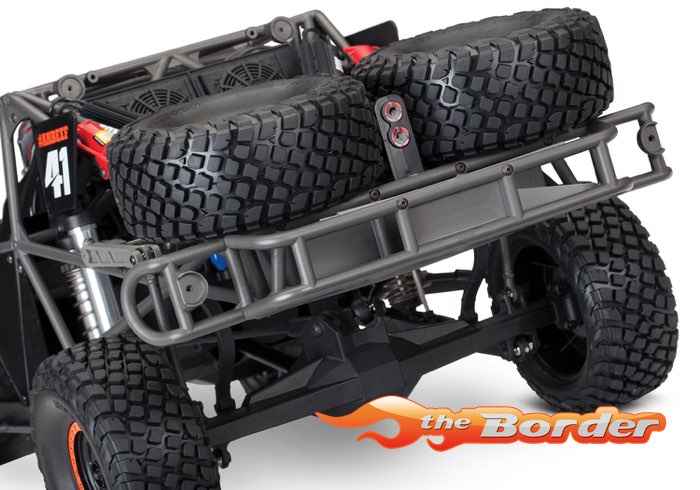 DETAILS
Beneath the Unlimited Desert Racer's tough exterior and beautifully sculpted, fully-integrated tube frame chassis are the keys to its thrilling performance. Peer beneath the skin to discover what lies at the heart of this revolutionary new off-road vehicle.
Protective Skid Plates
Integral to the inverted tub chassis, tough skid plates keep out debris and protect vital vehicle components. The two-piece design includes a separate door for the battery compartment that snaps in and out of position in just seconds.
Inverted Tub Chassis
The inverted tub chassis makes service and maintenance easy. Replace batteries without removing the body or drop the entire motor and transmission assembly as a single unit. This innovative design also concentrates weight as low as possible to lower the overall center of gravity (CG) of the truck for superior handling and performance.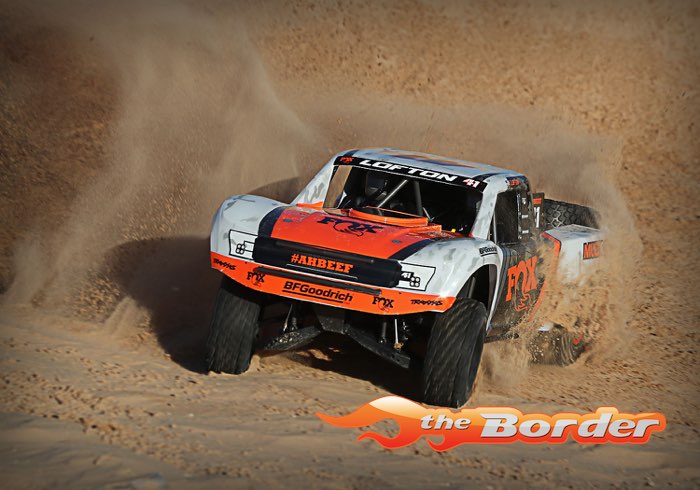 Versatile Battery Compartment
The versatile battery compartment accommodates single 4s LiPo packs or dual 2s or 3s LiPo packs. A rugged battery strap locks into place to hold even the largest batteries securely. The strap attaches firmly to the frame so there are no clips to lose.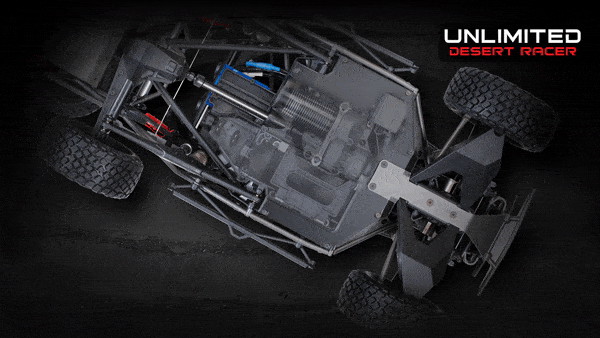 What's In The Box:
Unlimited Desert Racer with VXL-6s ESC and 2200kV motor
Quick Start Guide
TQi™ 2.4GHz radio system
High quality maintenance tools
What You'll Need:
Batteries
Unlimited Desert Racer accepts a single 4s LiPo battery or dual 2s LiPo batteries or dual 3s LiPo batteries
Charger
Traxxas EZ-Peak Dual is great for charging 2 batteries at the same time.
Specifications
Length:
694mm
Front Track:
345mm
Rear Track:
345mm
Ground Clearance:
58mm
Weight:
6.1kg
Height:
261mm
Wheelbase:
420mm
LiPo/ESC:
VXL6S, 4S-6S, max 25.2V