Traxxas Rustler XL-5 RTR met LED en Batterij 37054-61
Traxxas Rustler XL-5 RTR met LED en Batterij 37054-61
De accu wordt meegeleverd bij deze auto, de lader wordt niet meegeleverd bij deze auto, de lader is optioneel.
Gratis verzending op de Traxxas Rustler!
Free shipping on the Traxxas Rustler!
Only valid to the following EU countries:
Austria, Belgium, Czech Republic, Denmark, Estonia, France, Germany, Hungary, Italy, Latvia, Luxembourg, Poland, Slovakia, Slovenia, Spain, Sweden, The Netherlands

Includes:
Fully build & Ready to Drive car!
Optional:
The Traxxas Rustler® XL-5 Waterproof for More Power and More Fun!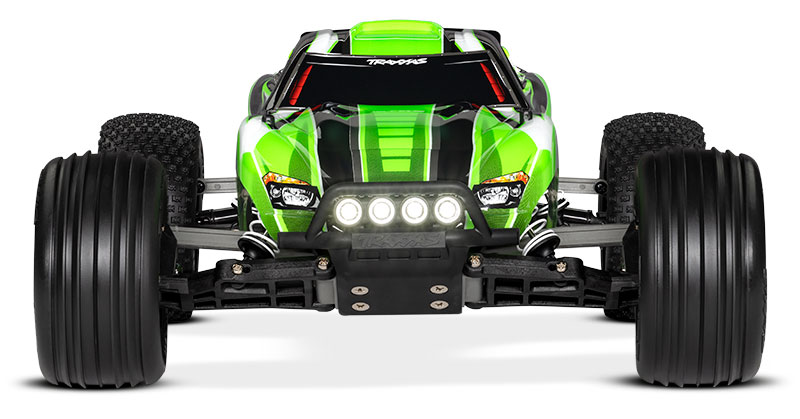 De Traxxas Rustler RC-stadiontruck zit laag en breed voor maximale stabiliteit bij hoge snelheden en snelheid in bochten. De korte wielbasis en het lichtgewicht chassis zorgen voor een snelle stuurrespons voor een wendbaar gevoel dat niet op andere trucks te vinden is. Rustler domineert onverharde wegen en verscheurt het asfalt met een zinderende topsnelheid van 35+ MPH*. Met de waterdichte elektronica van Traxxas kun je je wildste offroad-avonturen beleven door door plassen te schieten, modder te slingeren en sneeuw te versnipperen. Rustler levert power-sliding, full-throttle plezier in een Ready-to-Race®-pakket ondersteund door de legendarische innovatie en robuustheid van Traxxas.
­
QUICK FEATURES ON Rustler (#37054-61)
­
NEW Factory-installed front and rear LED lighting
NEW ProGraphix® paint
NEW Two-tone wheels
Includes battery and charger

4-amp DC Peak Detecting Fast Charger
Traxxas 3000 mAh 8.4V 7-cell NiMH battery with iD®

TQ 2.4GHz radio system
Waterproof electronics for all-weather driving excitement
35+mph* top speed!
Titan® 12-turn 550 modified motor
XL-5 waterproof electronic speed control
Traxxas' exclusive patented Training Mode
Brushless-Ready metal gear Magnum 272™ transmission
100% Fully assembled and Ready-To-Race®
­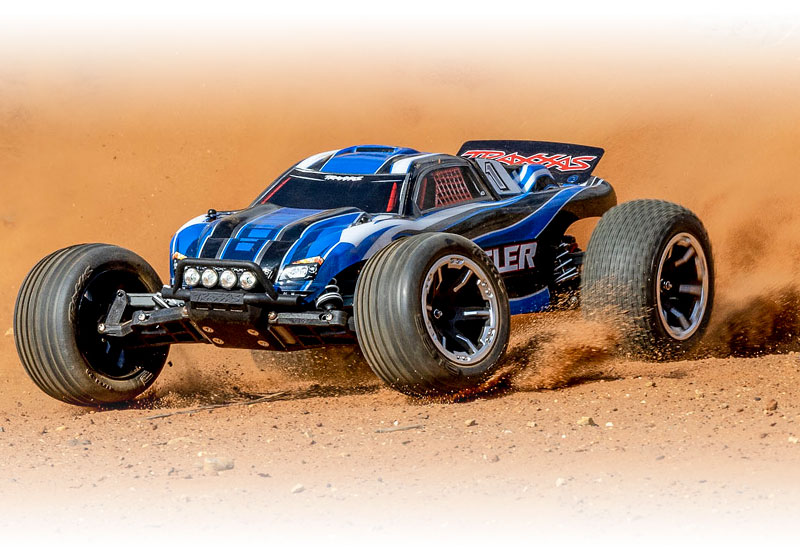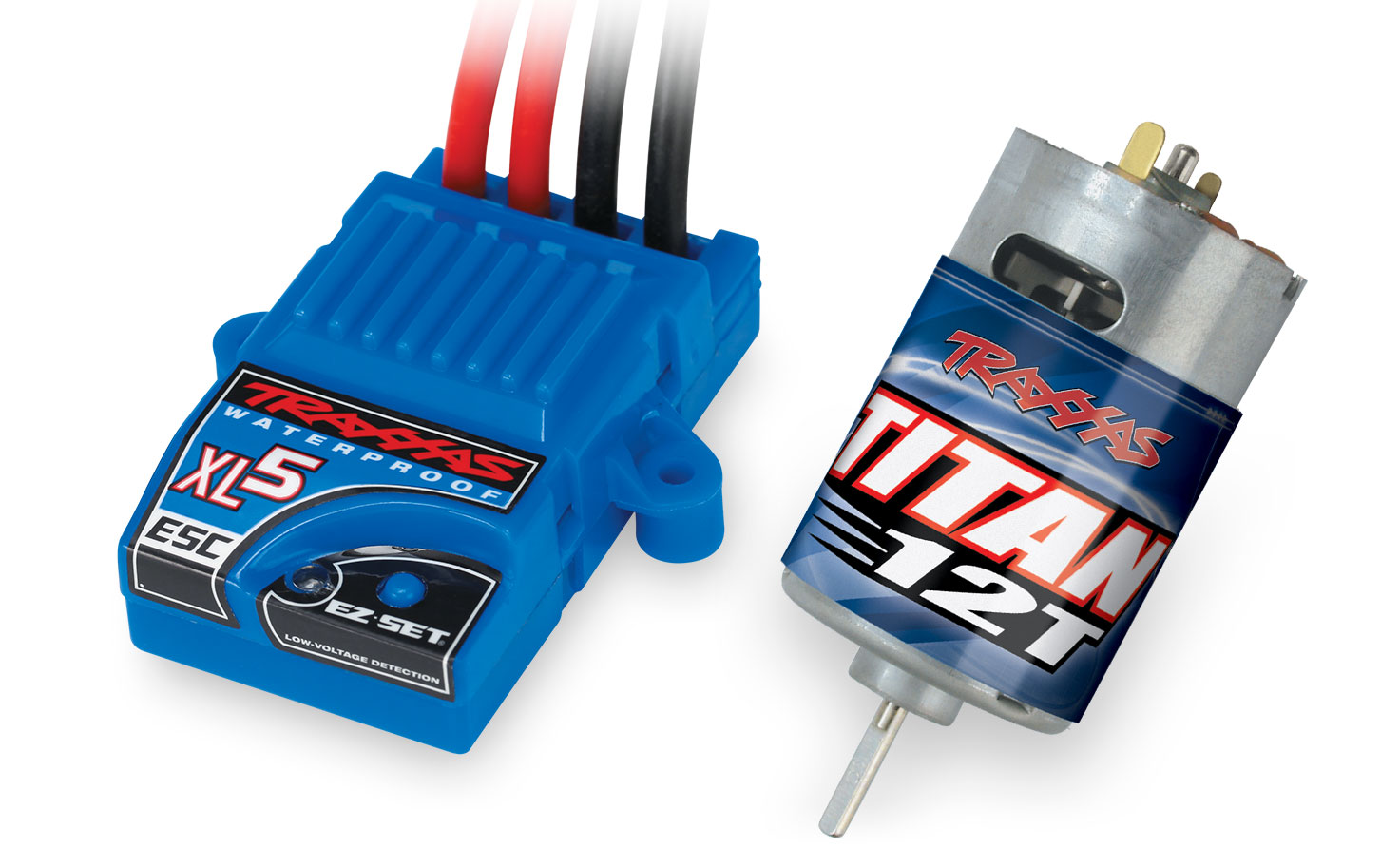 Modified Muscle
The Titan® 12T 550 motor pumps out incredible power with an integrated cooling fan to keep temperatures down. The XL-5 Electronic Speed Control provides smooth, reliable power delivery with EZ-Set® one-button setup and three different drive profiles.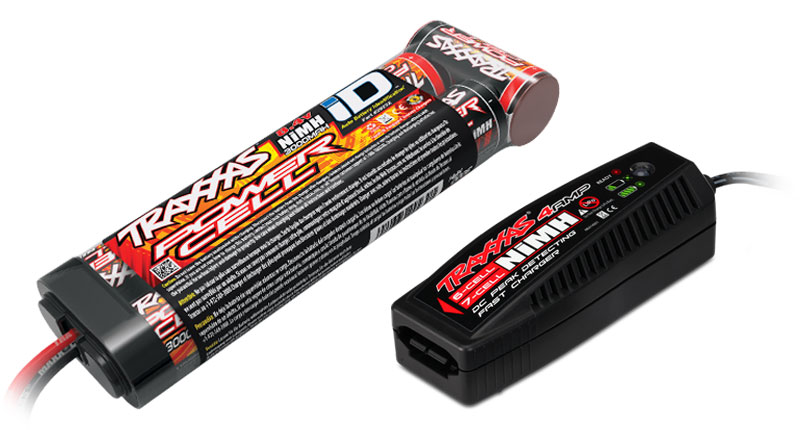 Battery and Charger Included!
Rustler includes a powerful 8.4-volt 3000 mAh Power Cell rechargeable NiMH battery pack to reach its blazing 35+mph top speed. A powerful 4-amp 12V DC fast charger comes in the box for quick charging in the field. An optional #2976 40-watt AC adapter (sold separately) transforms a common wall outlet into a robust power source for the included 4-amp NiMH fast charger.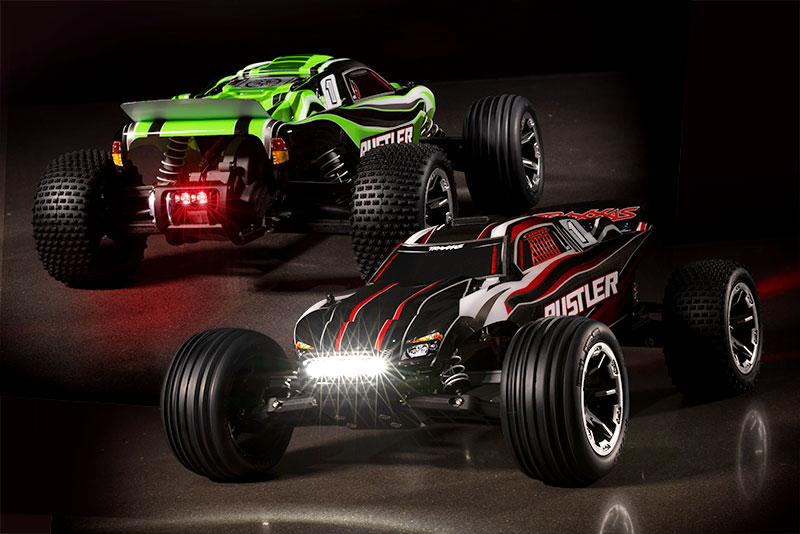 New LED Lighting
Rustler now includes LED lighting as standard equipment for more fun after dark. Thick impact-resistant bumpers protect the lights against crash damage with fully-waterproof construction for all-weather fun.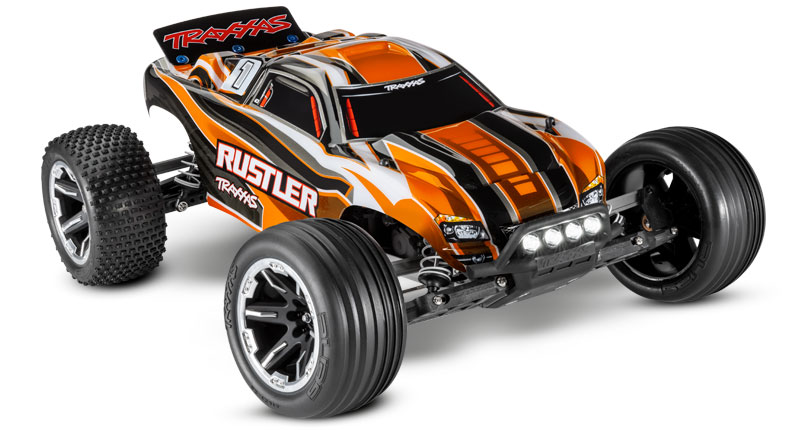 100% Fully Assembled and Ready-To-Race®
The Rustler comes Ready-To-Race® out of the box with the TQ 2.4GHz 2-channel radio system, waterproof XL-5 ESC, and included 8.4V battery and charger. With over 30 years in the hobby industry, Traxxas goes the extra mile to ensure that your RC experience is easy and fun.
MODEL 37054-61: Fully assembled, waterproof, Ready-To-Race®, with TQ™ 2.4GHz radio system,
XL-5 Electronic Speed Control, 8.4V NiMH 3000mAh Power Cell™ battery, 4-amp DC Peak Detecting Fast Charger, LED lighting, and ProGraphix® painted body
* With 7-cell battery and included optional 28-tooth pinion gear