Traxxas Slash 4×4 XL-5 met LED 68054-61
Traxxas Slash 4×4 XL-5 met LED 68054-61
3000mAh NiMH and 12V charger included
Free shipping to the following countries:
Austria, Belgium, Czech Republic, Denmark, Estonia, France, Germany, Hungary, Italy, Latvia, Luxembourg, Poland, Slovakia, Slovenia, Spain, Sweden, The United Kingdom, The Netherlands
SLASH 4X4
1/10 Scale High-Performance 4X4 Short Course Truck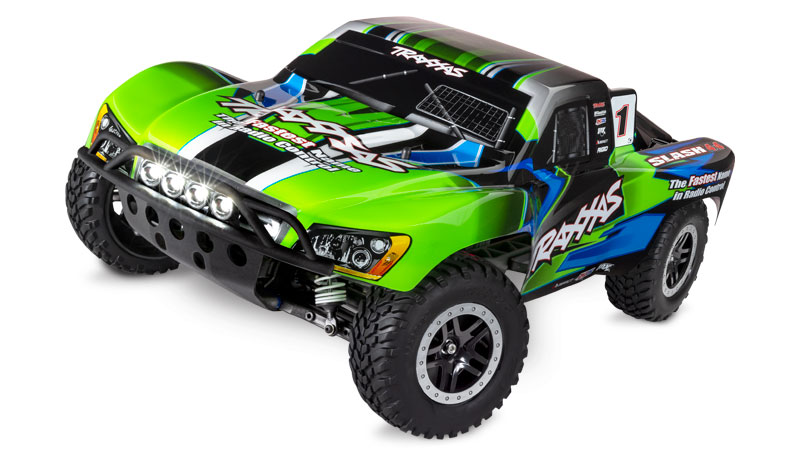 Built Slash Tough!
De Traxxas Slash zette de standaard voor duurzaamheid, prestaties en plezier waaraan alle andere short course trucks worden gemeten. Uitgerust met de krachtige Titan 12T 550-motor en de kogelvrije betrouwbaarheid van de XL-5 elektronische snelheidsregeling, gaat de Slash elk hoogvliegend, fender-bonkend avontuur aan dat je maar kunt bedenken. Waterdichte elektronica houdt het plezier in natte weersomstandigheden en LED-verlichting verlengt je rijplezier in het donker. Pak je zender, ruk wat 4-wielige slaapplaatsen en ontdek waarom niets anders zo is gebouwd als een Slash!
­
QUICK FEATURES ON SLASH 4X4 (#68054-61)
­
NEW Factory-installed front and rear LED lighting
NEW ProGraphix® paint
Includes battery and charger

4-amp DC Peak-Detecting Fast Charger
Traxxas 3000 mAh 8.4V 7-cell NiMH battery with iD®

TQ™ 2.4GHz radio system
Waterproof electronics all-weather, all-season RC excitement
Titan® 12-turn 550 motor
XL-5 electronic speed control
Sealed, steel-gear front and rear differentials
Shaft-driven 4WD with heavy-duty axles
Rugged modular composite frame
100% Fully assembled and Ready-To-Race®
­
­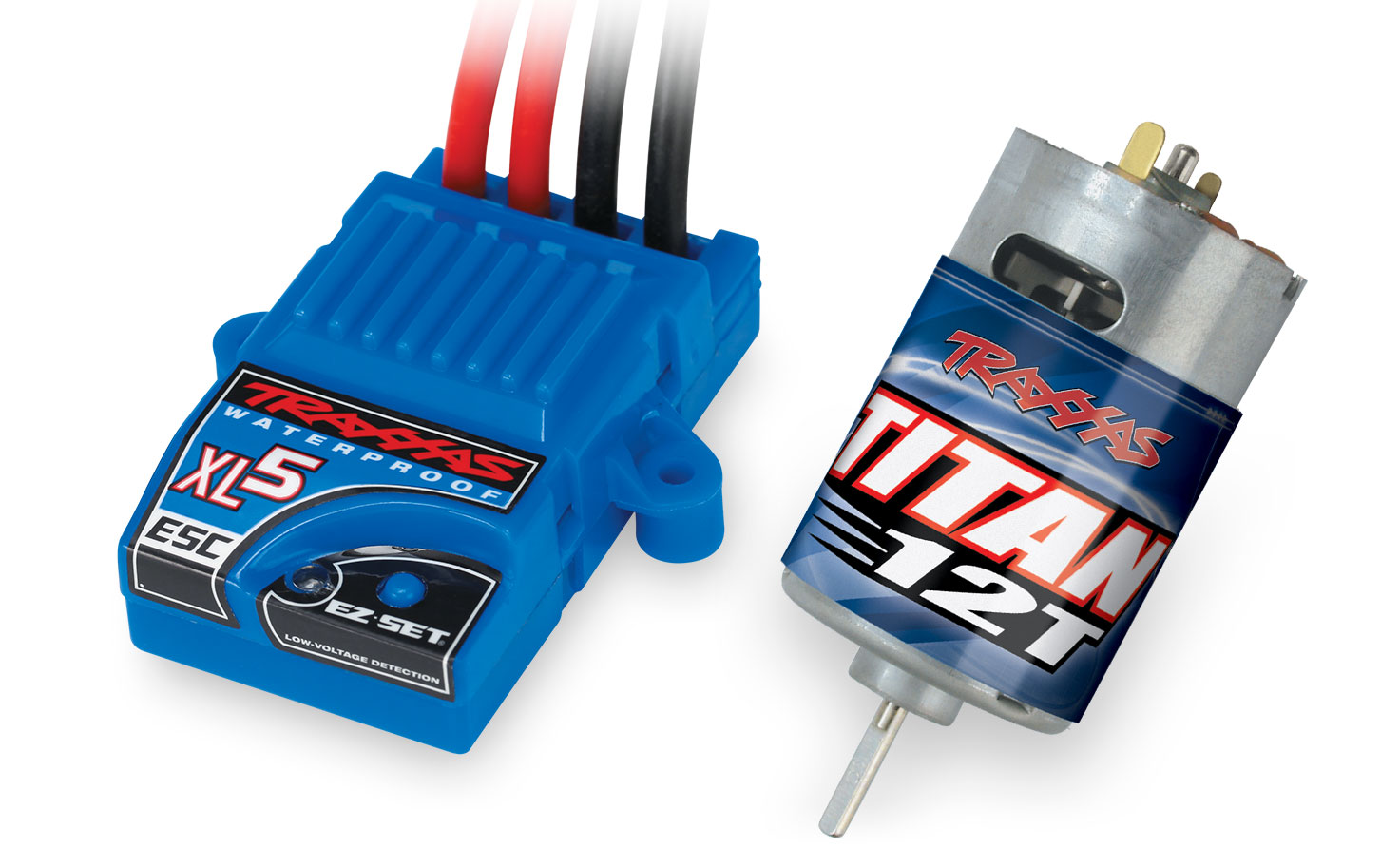 Modified Muscle
De Titan® 12T 550-motor levert ongelooflijk veel kracht met een geïntegreerde koelventilator om de temperatuur laag te houden. De XL-5 elektronische snelheidsregeling zorgt voor een soepele, betrouwbare vermogensafgifte met EZ-Set®-setup met één knop en drie verschillende rijprofielen.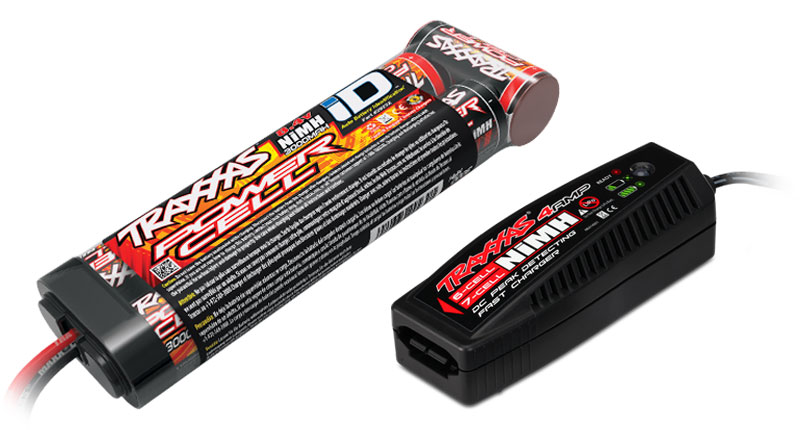 Includes Battery and Charger
Slash 4X4 bevat een krachtige 8,4-volt 3000 mAh Power Cell oplaadbare NiMH-batterij om zijn razendsnelle topsnelheid van 35+mph te bereiken. Een krachtige 4-amp 12V DC snellader wordt meegeleverd in de doos voor snel opladen in het veld. Een optionele #2976 40 watt adapter (afzonderlijk verkrijgbaar) transformeert een gewoon stopcontact in een robuuste stroombron voor de meegeleverde 4-amp NiMH-snellader.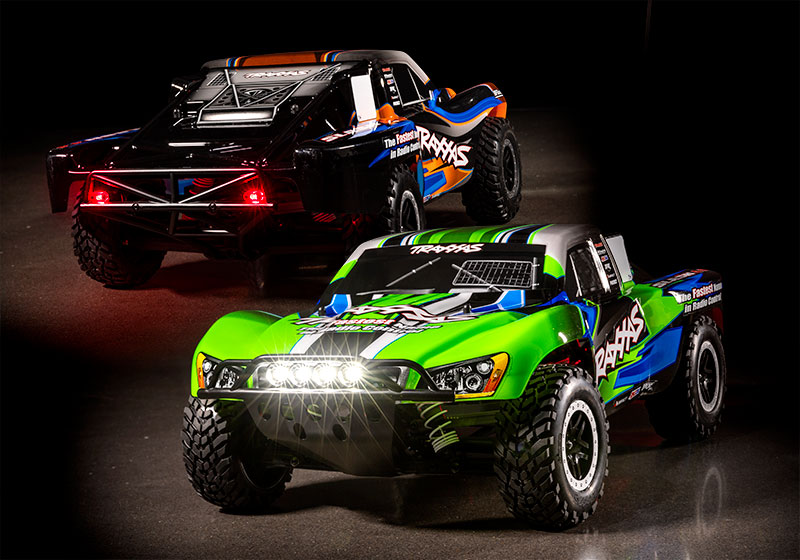 New LED Lighting
Slash 4X4 bevat nu LED-verlichting als standaarduitrusting voor meer plezier in het donker. Dikke schokbestendige bumpers beschermen de lampen tegen crashschade met een volledig waterdichte constructie voor plezier in alle weersomstandigheden.
100% volledig gemonteerd en Ready-To-Race®
Slash 4X4 komt Ready-To-Race® uit de doos met het TQ 2,4 GHz 2-kanaals radiosysteem, waterdichte XL-5 ESC en meegeleverde 8,4 V batterij en oplader. Met meer dan 30 jaar ervaring in de hobby-industrie, doet Traxxas er alles aan om ervoor te zorgen dat uw RC-ervaring gemakkelijk en leuk is.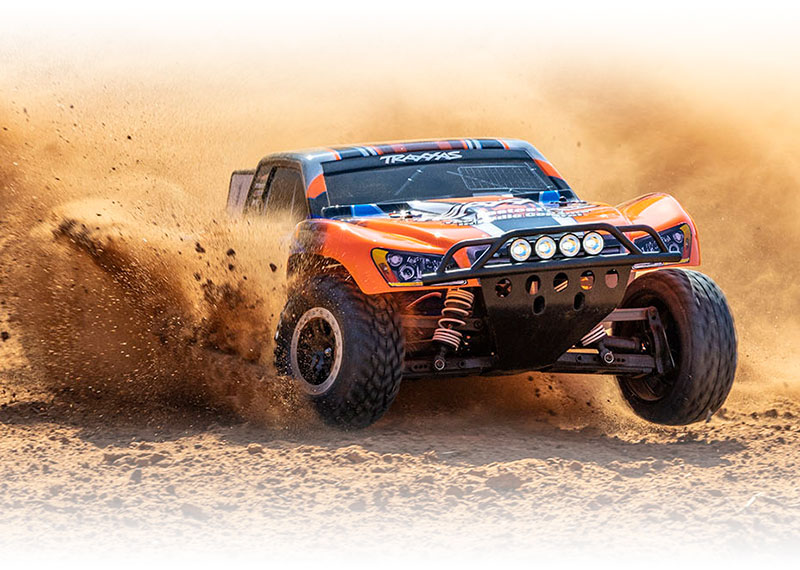 MODEL 68054-61: Volledig gemonteerd, Ready-To-Drive®, TQ 2,4 GHz radiosysteem,
XL-5 elektronische snelheidsregeling, 4-amp DC Peak Detecting Fast Charger, 7-cell NiMH-batterij met iD®,
LED-verlichting en ProGraphix® geschilderd lichaam.