Traxxas TRX-6 Ultimate RC Hauler Truck 88086-4BLK
Traxxas TRX-6 Ultimate RC Hauler Truck 88086-4BLK
ULTIMATE RC HAULER
Eén blik op de nieuwe TRX-6® Ultimate RC Hauler en u weet dat deze truck het meent. Gebaseerd op het enorm capabele TRX-6-platform, is de RC Hauler de grootste en gemeenste rig in de TRX-serie. De stoere looks worden ondersteund door nog sterkere prestaties. Het achterbed is voorzien van verstelbare wielkeggen en spanbanden om 4-Tec®-modellen met stijl te vervoeren en tentoon te stellen.
Een zeer gedetailleerd LED-verlichtingssysteem en zwart-over-zwart chromen carrosserieaccessoires geven de Hauler een stoere, dreigende uitstraling. De Ultimate RC Hauler is gebouwd als Traxxas Tough™ met portaalassen, hoge/lage transmissie en T-Lock™ differentiëlen op afstand. Als je klaar bent voor grootschalig RC-plezier, komt niets in de buurt van de Traxxas Ultimate RC Hauler.
BUILT TO HAUL
De Ultimate RC Hauler is het grootste TRX-6®-model met een extra lange wielbasis van 603 mm (23,7″) en een extra grote laadbak om uw 4-Tec-modellen in stijl te vervoeren. De zeer gedetailleerde truck is voorzien van diepglanzende zwarte verf over voorgevormde zwartchroom carrosserie-accessoires voor een intimiderende look die past bij zijn grote opstelling.
DETAILED BED AND LIGHTS
Adjustable wheel chocks with tie-down bands on the Ultimate Hauler's tow bed accommodate any 4-Tec 2.0 or 3.0 model and keep precious cargo secure. A powerful and true-to-scale LED lighting system with 25 individual lights makes twilight adventures a reality.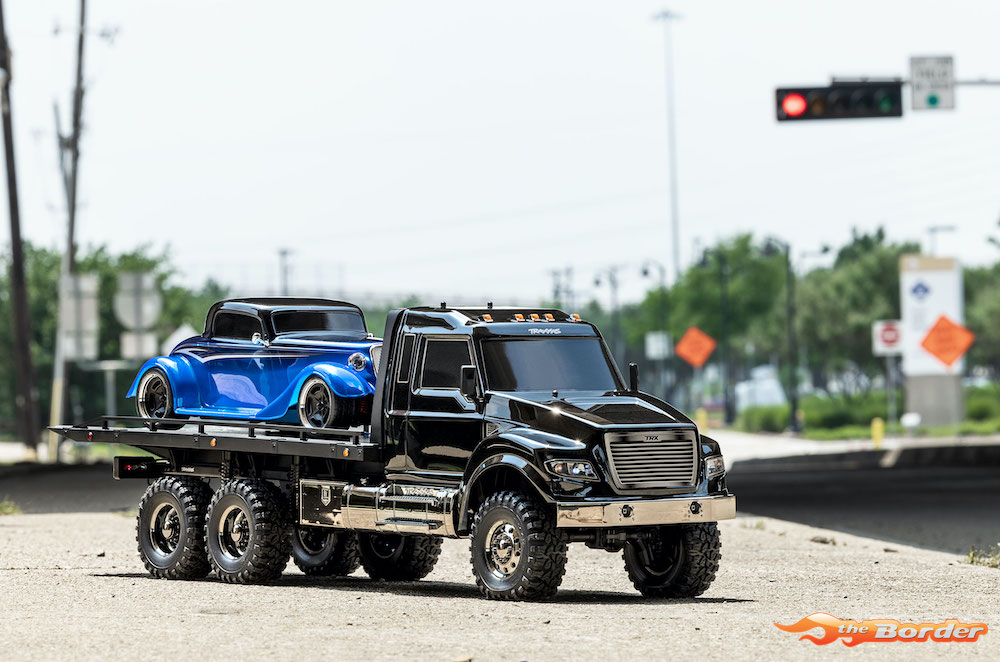 TRX-6 CAPABILITY
Built on the supremely capable TRX-6 platform, the Ultimate RC Hauler uses six drive wheels to get into the action with trail-conquering grip of three remote-locking T-Lock™ differentials to get back out. A remote-shifting high/low range transmission amplifies the motor's torque down low to move heavy loads while still providing ample cruising speed when unloaded.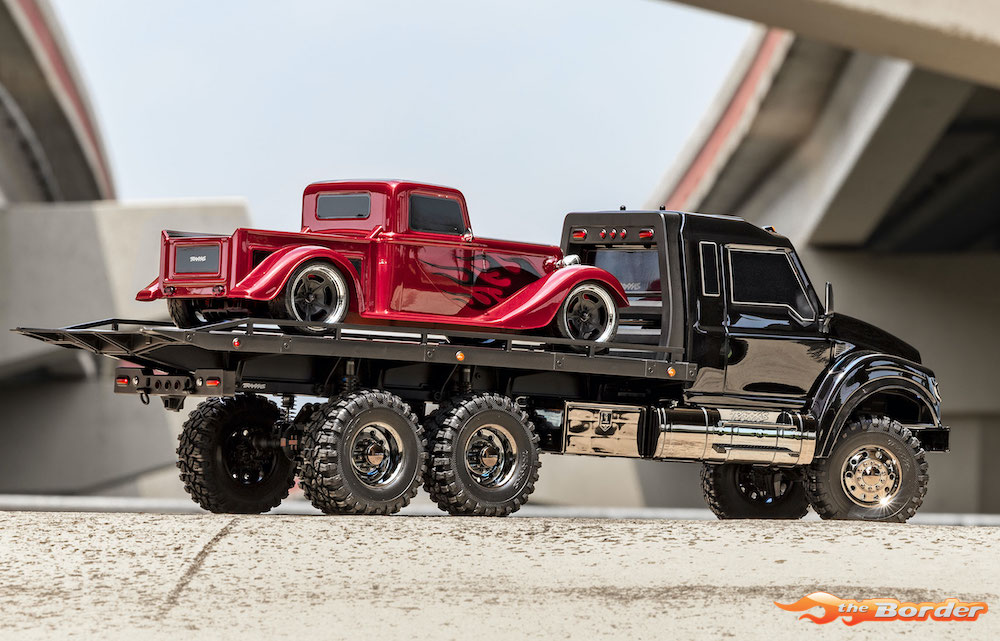 The Ultimate Addition to showcase your 4-TEC
Traxxas leads the way in scale adventure with the new TRX-6® Ultimate RC Hauler. Built on an extended TRX-6 platform, the Ultimate RC Hauler combines detailed scale appearance with true all-terrain capability. The rear bed features adjustable wheel chocks and tie-down bands to haul and display 4-Tec® models with style. Realistic LED lighting, detailed body accessories, and an included winch mounting plate complete the package. The TRX-6 Ultimate RC Hauler is the perfect vehicle for any enthusiast looking for the final word in scale RC fun.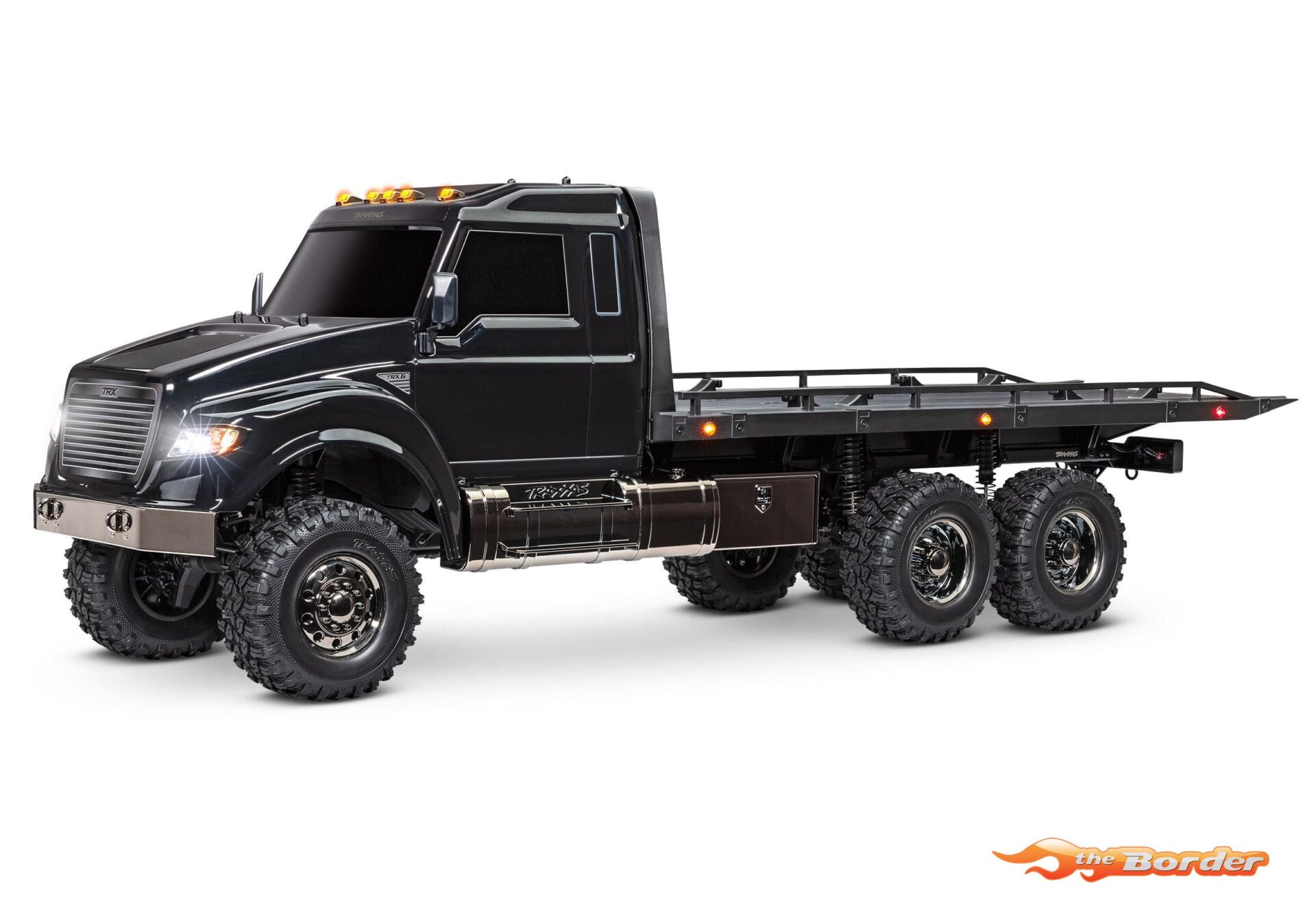 TRX-6 SIZE COMPARISON
At 37.5″ long, it is nearly a foot longer than TRX-6 G 63 and even longer than the X-Maxx
FEATURES
– TQiTM 2,4 GHz radiosysteem met cruise control – 3S Power-systeem
– Waterdichte elektronica
– Transmissie met hoog/laag bereik
– T-LockTM differentiëlen met vergrendeling op afstand – Drie portaalassen
– High Torque Metal-Gear Servo
– Zes aluminium oliegevulde schokbrekers
– In de fabriek geïnstalleerde LED-lichtset
– Verstelbare wielkeggen
– Vastbindbanden
– Bedlier montageplaat inbegrepen

High-Torque Metal Gear Servo
The 2075X metal gear servo and steel servo horn provide ultimate durability and steering authority.
High/Low Transmission
When hauling vehicles, keep the transmission in low gear to prolong motor life.
Unsurpassed Off-Road Capability
The Ultimate RC Hauler was built with all the capability of the award-winning TRX-4 and TRX-6.
Options:
Pro Scale® Winch
The included winch mounting plate makes it easy to install the Pro Scale Winch (#8855).
Traxxas LinkTM Wireless Module
Add the Wireless Module (#6511) to use the inclinometer in the Traxxas Link app.